Is it time for a Web Analytics Audit?
The need for the accurate web analytics data & richer business insights is increasing. Given the importance of web analytics data, it is essential to conduct a web analytics audit every year (or just after any major system upgrade). An agile & effective web analytics audit can contribute immensely to reliability of data, without enumerating the many benefits to the overall business.
When is an Audit Necessary?
Your team presents a campaign report touting the success of a recent digital marketing campaign with super low bounce rates. The report demonstrates how the campaign drove an unbelievable number of visits to your website. But your stirring gut tells you something isn't right. That's a good enough reason to review your web analytics implementation. Similar leading questions are:
Should I trust the accuracy of the Web Analytics data accuracy?
Are we using our Analytics package to its full capability?
Why is the Analytics application showing different values than the back-end systems? Which one is correct?
Did the system migration last year have any lasting impact on the web analytics?
Do we have a like-for-like comparison on YOY metrics?
Is the Analytics implementation optimized to and aligned to the online business strategy?
Simple Tools for your Web Analytics Audit
There are many simple analytics tools & add-ons available, through which you can ensure correct deployment of the GATC. Some of the popular ones are: GA debugger, WASP, Google Tag assistant, GTM debugger tool, Firebug.
Planning for a Web Analytics Audit
Structure and scope your audit - A web anaytics audit is an ideal candidate for scope creep. Structure your audit and define its scope well
Ensure that you have good documentation of the checks done and the results
During the process, you need to document your progress. Thus, it should contain the brief explanation of all the current state issues with a summary analysis.
This vision & roadmap along with the timeline will eventually serve the foundation for further actionable recommendations.
Even tests in which no problems are detected should be recorded. This helps in fault finding in the future
Prioritise each mistake that you find. A good set of dimensions to help in this are: magnitude of error, business impact, cost of correction, duration of existing problem
You might want to share the progress of your audit with the Tech, Product and BI teams, especially if you do not have GTM (or any other Tag Manager). Another great reason to share the progress and results with the Product team is that they constantly use this data for their decision making
How to Structure your Web Analytics Audit?
There are 3 core areas that need to be looked at carefully:
1. Configuration settings
2. Visitor information
3. Conversion metrics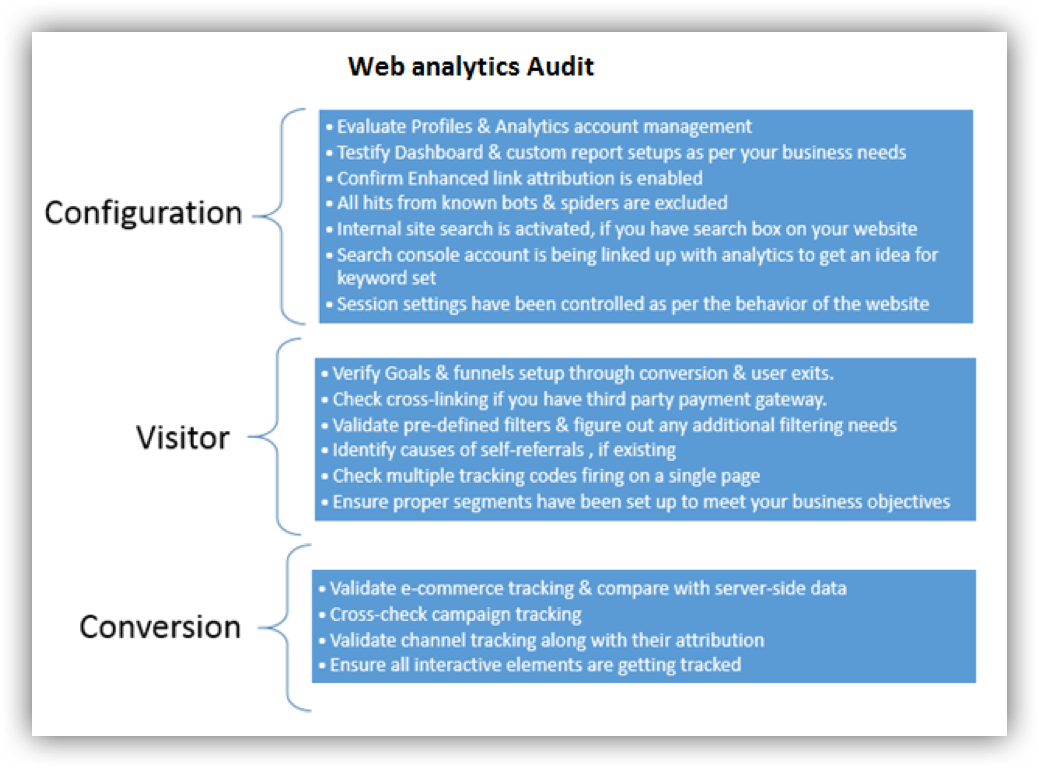 Let's set forth the enumerated frame of all above listed sections:
1) Configuration Settings:
1.1 Evaluate Profiles & Analytics accounts management
Test whether all the properties owned by the single person/organization are getting tracked into one analytics account only. Make use of filters in situations where you need distinct report views for the property having blogs, website, mobile platform.
Separate properties should only be created when you have the multiple subdirectories/sub-domains within a single domain but each department wants to control & track their sections independently.
Make sure, if you need more properties/views to fulfill your more business needs, consider removing un-necessary properties & views first rather than considering new analytics account provided the fact that each Analytics account can have up to 50 properties and each property can have up to 25 views.
Make sure you keep unfiltered data in one view which should be including all traffic generating from sub-domains/sub-directories, mobile website so that a single organization can get to know how much in total output they are getting to their website.
1.2 Review administrative settings and ensure best practices are implemented
Enhanced link attribution is enabled
Search console reports are available within analytics through account linking.
Dashboard & custom report setups
All hits from known bots & spiders are being excluded
Session settings are properly set based on the behavior of your website
Internal site search is activated with relevant search query parameters.
2) Visitor
Ensure that goals & conversion funnels have been setup properly so that navigation impacts are measured. Funnels must not have any irrelevant high number of exits.
Verify that cross-domain setups have been done if your payment gateway is on third party domain. Even if your ultimate goal is to treat two different websites being treated as similar in terms of traffic you need to cross-link your domains in that case.
Validate predefined filters and identify additional filtering needs, such as internal and sub-domain traffic
Ensure proper segments are defined as per your business goal like brand & non-brand traffic, mobile/desktop traffic.
Ensure that you are not getting any referral visitor from your own website. There might be many causes for self-referrals like untagged landing pages, customized cookie settings, cross domain issues.
Keep a check on extremely low bounce rates which can be caused due to firing of un-necessary events.
Verify double counting of the visitors is not going on which might be causing due to multiple tracking codes on the page.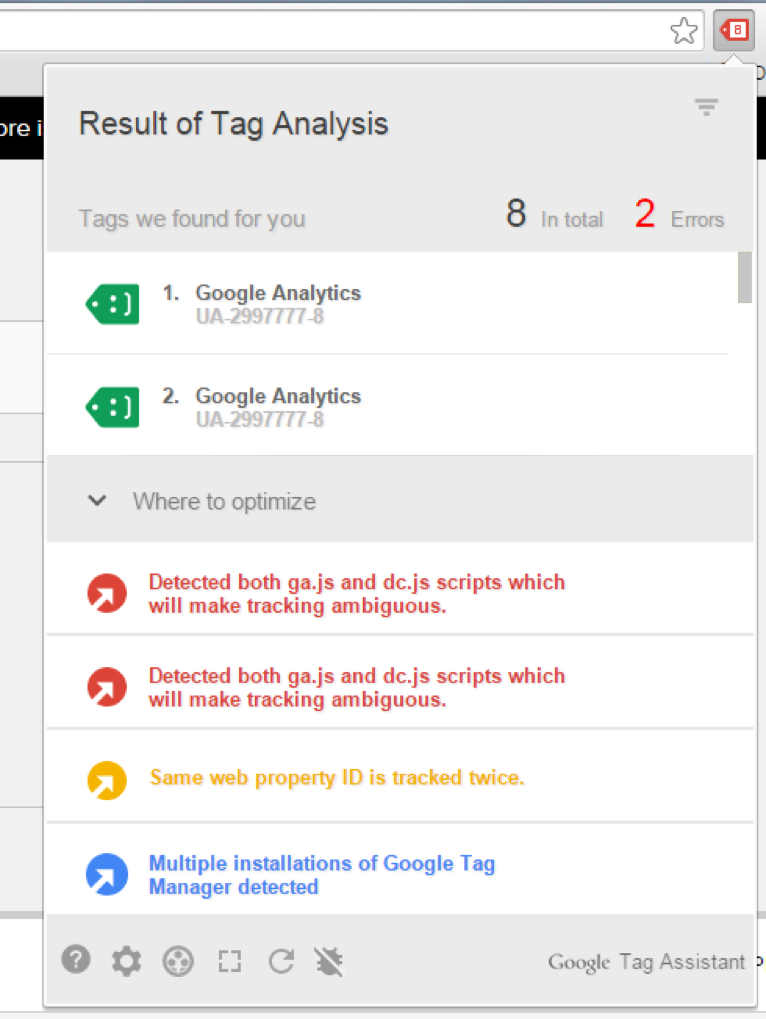 3) Conversion
Validate e-commerce tracking and compare with server-side data. Ensure that your product revenue matches with the internal database values.
Cross-check that campaign tracking is correct and utilizing proper UTM (source, campaign, medium, term) campaign parameters.
Validate channel tracking (i.e. ensure all referring sources are attributed correctly) including organic search channel, display ads, social media, affiliate networks, etc.
Ensure all downloads, signup forms and other interactive are tracked by custom JavaScript tracking code along with the page information on which the event is taking place.
You can check the event tracking code functioning well through Javascript console firing highlighted parameters: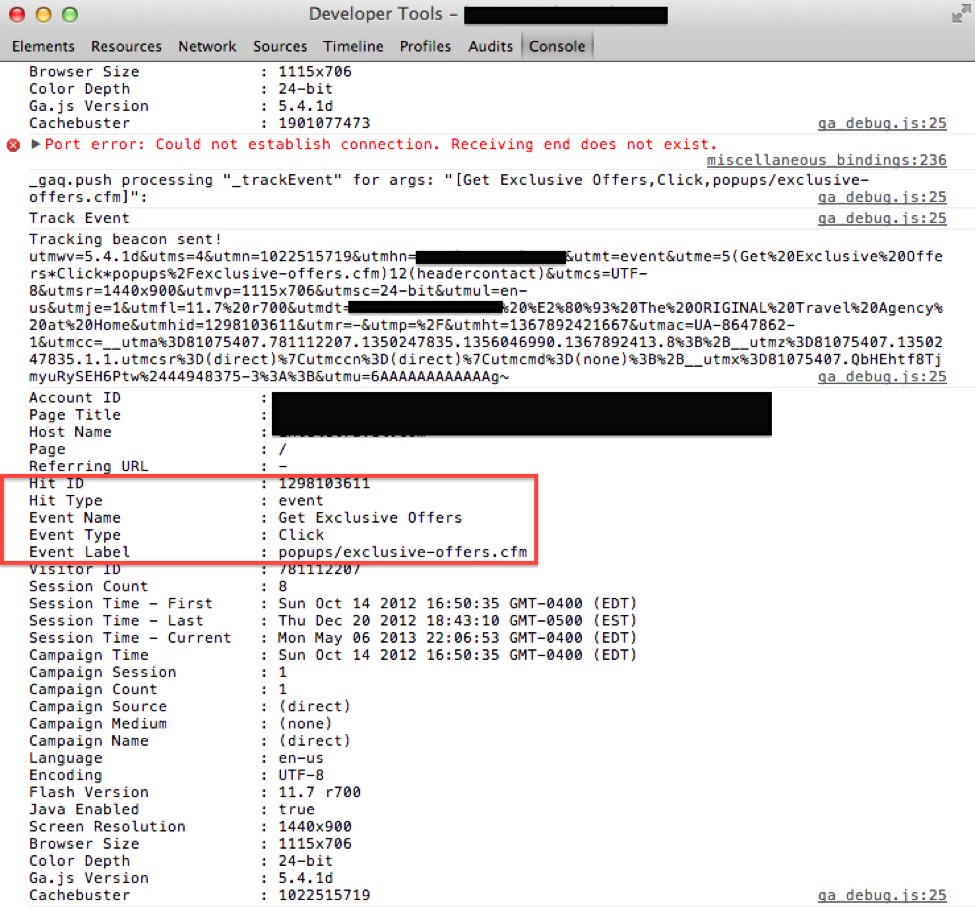 Common Mistakes that I have seen in Web Analytics Audits

Multiple tracking codes – the same code is placed more than once; or there are pages where a tag is appearing more than once because of an incorrect setting in the Tag Manager
Unused or Obsolete Tracking tags – While marketing campaigns might require tracking tags, there is rarely a process to remove the tracking tags after they are no longer in use.
Incorrect Referral Traffic (Self Referral Traffic , 3rd party websites) – incorrect implementation of tracking tags when a web visitor traverses across domains on a single path (between domains and sub-domain, or from website to payment gateway and back again!)
Incorrect Bounce rate – An incorrect (or over-eager) firing of events might show up as a dramatic fall in bounce rate. (Such news usually creates a wave of excitement across the office floor)
Incorrect firing of events – Event firing from JS code is a common place for errors to creep in. Errors include over-eagerness (as above) or even under-firing and incorrect naming of events
Exclusion of web traffic generated from offices, staging sites – Visits to a website by employees should ideally be removed.