How to Manage an End of Season Sale for an apparel website?
In India, the apparel industry introduces new collections every season (say autumn, winter, and summer). To sell their last season's inventory from the warehouse, they usually run an extensive sale which they term as End of Season Sale (EOSS). At envigo, we have designed some ROI-focused campaigns for our e-commerce clients (apparels mostly).


Read this article if you looking for some help on how to plan for an EOSS!
You need to have a plan and link a proper execution style to an EOSS for your e-commerce website. What all will be your KPIs (Key Performance Indicators), channel selection and how you will track the results are provided in this article. Below is a brief on how we have executed an EOSS campaign:
As the target was very high and strict, we started our planning months before to increase the audience data base, brand visibility, and brand searches to get the desired momentum to increase the sales and RoI (Return on Investment).
Planning
Our Approach: Break Campaigns into Funnels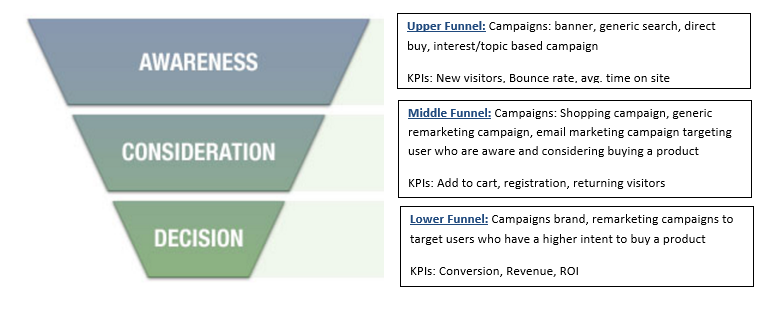 Set KPIs:
Each funnel has their own set of KPIs like the Upper funnel is measured on clicks and new visitors. On the other hand, the lowest funnel is measured on sale numbers, and therefore on RoI.
Channels /Media Plan:
For each funnel, we need to consider a different set of campaigns and channels. We need to evaluate each possible online channel like content, mailers, affiliates, direct buy, video & self-serving platforms (AdWords, Facebook, Instagram, Twitter, etc.) and set campaigns accordingly.
Campaign Setting
Campaign setting is the most crucial phase, as it decides when and where your ad will be shown. Additionally, it includes to whom your ad will be shown.
Below are some settings you need to check before making a campaign live:
Budget
Location
Frequency capping
Device
Day parting (scheduling)
Then there are some rules and automation processes that can ease your optimization process:
Location, device, demographic and geographic targeting to show ads to the best possible audience
Create and add dynamic conversion and dynamic remarketing to the site to track revenue generated from AdWords & Facebook directly (in case of dynamic values associated with the products)
Frequency capping to control the frequency of ads
Remarket List management
Create retargeting lists based on touchdown points (home page, product page, cart page, registration, confirmation page, etc.) in GA, AdWords,and Facebook to maximize on remarketing audience list
Create retargeting lists based on visitor engagement (bounce rate, page visit frequency, average time on site, etc.)
Create retargeting list for different lookback periods
Create similar lookalike list
Create custom combination of the existing list
Upload existing email database for remarketing mailer campaigns
Execution
New Campaign Ideation:
Identifying new opportunities ( evaluate each possible online channel like content, mailers, affiliates, direct buy, video and self-serving platforms) and set up campaigns accordingly
Make sure to create a buzz and reach to target audience at the right place and at the right time
To increase brand searches and traffic on site, we create new generic campaigns (search & display) targeting all products available on a site
To increase brand visibility and brand recall, we created multiple banners campaign targeting placements, topics, and interest over FB and other websites.
Run mailer and SMS campaign on existing database to update existing buyers about the sale
Through banner campaign, we try to reach a wider section of the web traffic that was not actively looking for products but can be our potential buyers
Create DPA, and a dynamic remarketing campaign
Create a shopping campaign
Create RLSA campaigns
Run carousal and video campaigns to showcase the products and offer them more prominently
Set campaigns on best relevant websites/blog pages that are outside the Adword display networks
Set email campaign on existing database and hire third party email vendors and set campaign on their platforms
Create GSP campaign targeting the existing database
Create GSP campaign targeting interest, topics & keywords ( products, competitors)
Ad Creatives:
Worked on improving product feeds with regular updates for shopping, DPA and dynamic remarketing campaigns
Used various ad formats like text, image, flash, carousals, video, dynamic text ads, countdown ads
Worked on Ad message- we created multiple Ad copies with different Call-to-Action options
Created separate ad copies for every products, and did A/B testing
Used different ad messaging for old and new users
Different Ad copies specifically created for different channels, as each and every channel has different targeting objectives
Bid Management
Used automated rule for bid optimization
Bid optimization based on demography and geography
Bid optimization based on device performance
Bids optimization on hour of the day, day of the week, etc.
Bid optimization based on CTR and quality score
Create multiple audience sets on Facebook and set bid accordingly
Optimize bids for higher impression share and better ad rankings on targeted keywords
Account management
Set KPIs and used KIS (click, Impression, ad position, conversion reach, engagement and revenue) for respective campaigns types (brand/generic/banner/search/shopping/remarketing/content/mailer/SMS/direct buy/affiliates), gauged and optimized the account accordingly on a daily/hourly basis.
Performance monitoring
We divide the performance data based on the basis of campaign objectives (drive traffic, create awareness, sales)
Compile performance report on an hourly/daily/day of the week and monthly basis and optimize the account accordingly
Create performance report at account, campaigns, ad group, keywords, placements, location, device, gender and age group level to see, which set is performing and meeting its KPIs
Pause non-converting keywords, ads, placements, ad groups, campaigns to focus our budget on converting elements
Use negative keywords to reduce money wastage on visitors who are unlikely to purchase anything
Track performance coming from direct buy, affiliate, content, SMS and mailers
Inventory/Landing Page Monitoring
Keep track of the inventory scale of the campaigns
Update website product feed regularly
Monitor landing pages , products and pause the ad group or keywords promoting the 'sold out' products
Make sure that the transaction process is working fine and is not down with broken links
Look after exit pages, funnel reports to find any abnormalities
Check the website on multiple browsers and devices to gauge its functionality
Execution
Took first mover advantage by promoting the EOSS a week before our competitors started the EOSS campaign, as it helped us to stay ahead. It also generated good sales in the initial phase of the EOSS.
Result
Cost was up by 83%
Conversion (Sale) increased by 195%,
Revenue by 142%
ROI by 32%
Conversion rate by 34%
Cost per conversion was reduced by 38%