Google My Business GMB Listing Guide For 2018
Google My Business GMB Listing Guide For 2018
Mobiles are the single largest device for accessing the internet. With voice search and cheaper smartphones, this trend is only going to continue.
Search engines have released or upgraded various products which are focused towards mobile search user behaviour.
One such tool is Google My Business - a free tool by Google available for businesses to manage their online presence across multiple Google properties like Search and Maps.
Google Places was renamed as Google My Business in June 2014. It is a product of Google that let us create and manage free business listings in Google Maps so that people can see our business when doing a local search. Google My Business well known as GMB. It is a buzzword in the SEO industry. GMB combines Google Plus G+ with Google Local.
Why Google My Business is important for your business?
97% of customers search for local business online
90% of smartphone users perform a local mobile search
43% of people online are looking for something to buy locally
When a business is added to Google My Business can appear in Google searches, Google Maps, and Google Earth whenever someone searches for your business name, address and contact details.
Business locations information can be shown in your AdWords ads by using location extensions. Location extensions display your business name, address, and local phone number with your ad to help customers connect with your local business.
Acts as a lead ignitor: Businesses without a website can also verify their business with Google My Business and advertise with AdWords Express, Google's advertising product without daily ad management.
Different types of Google My Business listings
There are three types of GMB listings: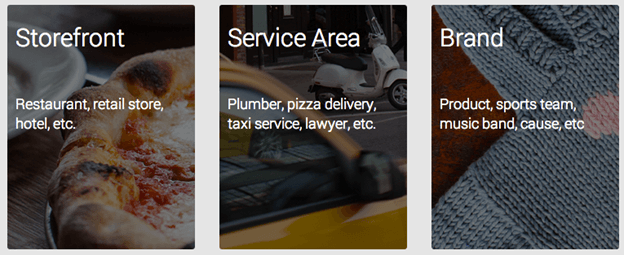 Chain - Storefront locations of the same brand
Service area - No storefront, but provide services to an area
Different brands - Locations that don't share a brand
Once a listing is created, it needs to be verified by Google. Remember, Brand type is applicable if the business location is global.
How to create a Google My Business listing?
You need to have:
Google Account
Business NAP Details : Business Name, Address and Local Phone Number for verification
The steps to create a Google My Business Listing
Start a Listing. Verify if your business listing is already not added
In order to qualify for a local business listing in Google, your business must meet provide the your business info. and then your business basic details

Business Name
Country / Region
Full Address
City
Pin code
State
Business Phone number
Category of your Business

Select Service Areas
Provide additional information (hours of operation, payment options, photos, videos) before you are promoted to submit
Verify your info and submit. Listing can be verified through the following methods:

Postcard
Phone
Email
Instant verify
Bulk verification

In case, there are listings less than 10, PIN is sent via postcard on the physical address. Bulk verification is available for listings more than 10. SMS and phone call verifications are also available for listing verifications.
Once your listing is live it can appear at several places: via Google search in knowledge graph, google maps, google+.
How to appear for local searches like "Pizza store near me"
There is a sub-type of service area GMB called hybrid service-area business. These businesses can show their storefront addresses and pinpoint a service area on Google My Business. Once this listing is live, the business starts appearing for relevant searches by potential customers within their service area.
If a business serve customers at your address and want to set up a service area, your business location should be staffed by your team and should be able to entertain customers during the specified working hours.
What can you do with Google My Business Listing?
Now that you have your GMB listing, this is what you can do next:
One dashboard for all your business information updation: The GMB listing is used to power information inside Google search, Google Maps and any other relevant Google product. GMB acts as a resource centre and offers a dashboard for your business information. Google picks up this listing information to display via knowledge graph.
Manage your information
Manage your business contact details (business name, email id, contact person, local phone number, address and URL) from here.
Add photos of your business
Photos can be of products, clients, office interior, office exterior, employees, team, customers, facilities, store locations.
Google reviews
Monitor your reviews and respond to your customers' queries.
Expand Your Network
By sharing news, events, updates you can broaden your network and connect with your fans.
Integration with Google Adwords Express
AdWord Express offers online advertising for one who wants to manage the adwords campaign alone. If you are looking to increase your site traffic and get more transactions on the website locally or globally.
Common Problems that you might encounter with GMB and their Fixes
Google My Business Listing adhere to high quality information and violation of the guidelines might lead to account suspension.
Some of the common problems that you might face with GMB are below:
Multiple listings for same business - If there are duplicate listing and listing with incorrect information has more reviews, please request Google to transfer reviews to correct listing and then merge the two listings. Please note service area businesses cannot have multiple listings.
Third Party business image or info appearing in own listing – Check which site image is coming an how, there is option to report error to Google.
Not able to verify listing – individual or bulk – It could be ownership issue, Business NAP information is not correct, not using real name, address pointing wrong, incorrect contact info. For bulk verification official domain name email id is needed. Use local phone numbers only.
Listing Not approved – Read Possible causes for your listing not appearing on Google My Business
Listing Got removed – Multiple listings exist
Account Suspension – prohibited content use or other factors listed below
Listing deleted or permanently closed but not removed from search result – Deletion does not mean removal of listing but it stops appearing under your listing and will be available for claim. Permanently close is to show user that location is no more available but does ensure removal
Existing listing claim issues – Read the possible reasons for listing not appearing
Ownership transfer issue – lack of information of primary owner, proper steps not followed
Listing businesses sharing same business NAP – When multiple businesses run at the same address, name and local phone number should be different.
Deleting business listing permanently: Even though the listing is closed it might appear for search, but its chances to appear in local search would lower. Read this article for details on how to delete an existing listing.
Limitations of verification : 8 times you can request to verify a listing thereafter you will not be able to verify the listing. So, you would be required to delete ad create a new one.
Issue claiming an existing listing : To claim unverified listing is easy, follow Google verification process outlined here. But, in case you want to claim a listing that someone else has claimed so you cannot claim and need to contact google to claim your business listing.
Possible causes for your listing not appearing on Google My Business
Use of prohibited content, Fraudulent or illegal activities or Marketing and promotional content
Absence of Physical presence – only online business is not eligible for GMB listing
In accurate additional business information: Business information needs to be consistent, false information should not be uploaded. NAP information should be accurate and consistent
Business should be active for customers during hours of operation
Businesses under construction
Unrealistic claims are not accepted: Business owners and managers can create and manage listings
Using third party phone number, wrong location code; remember local phone number is needed
Absence of in-person contact during your business hours of operation
Business chains - name and category must match; inconsistency is a problem
Businesses with departments – having separate Publicly-facing departments that operate as distinct entities should have their own page. The exact name of each department must be different from that of the main business and that of other departments. Typically, such departments have a separate customer entrance and should each have distinct categories.
Individual practitioners are not allowed to create multiple listings to cover all of his or her specializations
Ownership Transfer Issue: Suppose your business key person is leaving the company for any reasons, don't forget to transfer ownership. Check these steps.
Let me know in case you want us to evaluate your Google My Business presence by creating a complementary and obligation free audit report for you.
Let us look at this table to go through the roles and capabilities of GMB users.

Owners and primary owners have the same capabilities, but a primary owner can't remove themselves from a listing until they transfer their primary ownership to another user. Owner can add or remove listing owners. With Business account you can add users to manage your business listings.
Google My Business Listing Success Story
We have been working on 1500 locations for one of our clients.
As the client holds service area business type and have 1000s of locations we had to go for bulk upload and verification. We did verified ownership, claimed and merged duplicate listings, created business accounts and updated information for all listings.
Steps that we followed for the GMB listing of 1500+ locations:
Creating a bulk upload feed for GMB
We create a file with all the listings information which included:
The Brand – Store code, business name, location URL
Addresses – Address, locality, country, postal code, primary phone number, additional phones
Timings – Working hours and special hours (if any)
Co-ordinates – Latitude and Longitude
Photos – Office, team, exterior, interior
We manually checked each of the locations on Google map
GMB – Create or Merge
There were no listings for around 60% of the locations, which were then created as new GMB listings. For the remaining, we found existing listings, for which we had to merge the data.
Google My Business Optimisation
Delete permanently closed locations
Invited customers to add reviews on location listing
Image optimization – images URL and alt tag for ranking in SERPs
URL updation for each location - add URLs with UTM parameters for tracking
Created link citation by submitted these locations into Local directories
Correcting map coordinates
Labels and attributes updated for each location (used for inclusion of targeted keywords)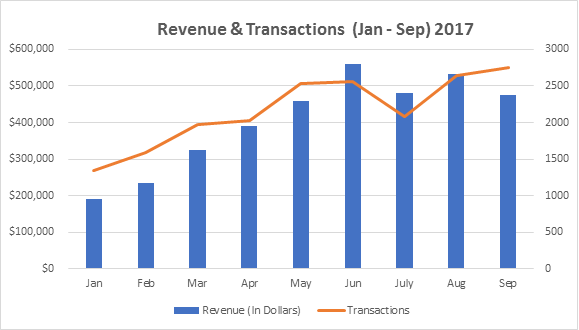 Google My Business Performance
There was a clear improvement in ranks, traffic and revenue generated from the Google My Business listings. Monthly transactions and revenue from this channel went up by 104% and 130% respectively over a period of 9 months.
There was a clear improvement in ranks, traffic and revenue generated from the Google My Business listings. Monthly transactions and revenue from this channel went up by 104% and 130% respectively over a period of 9 months.
What should you do?
With customer behaviour firmly biased towards mobile, Local SEO is as important as regular SEO. Google My Business (and equivalent channels like Bing Places, Twitter Cards…) are important new platforms that need to find place in your marketing plan.
For Google My Business listing, you will get your business listing live and can rank higher if you adhere to quality guidelines. It is all about being real, present for your customers with consistent and accurate information.
Let me know in case you want us to evaluate your Google My Business presence by creating a complementary and obligation free audit report for you.