Extracting SEO Benefits for 2016- Part II
As promised, we are back with Part II of the series on SEO hygiene parameters.

What you can expect in this part

Part I gave you insights on macro categories- mobile SEO, website analytics & tracking, internationalisation and videos. In this part, we are going to decode the most important micro factors for optimal search engine performance of a website - indexing, accessibility & onpage, links, content freshness and site architecture.
Indexing

In layman terms, indexing is the process of adding webpages to Google search. No-index means that your pages will not be added in web search. It is better to let only important pages of your website to be indexed by Google and avoid indexing of unnecessary pages like tags and categories for better search engine performance. Use this crawl test by MOZ to diagnose any specific crawl issue for your webpages.
Accessibility & Onpage
There is a close relationship between web accessibility and Google search engine optimisation. Although it is not a major component in Google algorithm, best practices in web accessibility indirectly can give you higher search ranking as Google in many cases use the same elements to understand and rank webpages.
Some practical tips for accessibility:
Use unique page titles that have relevant keyword(s) for the specific webpage
Use unique headlines (H1, H2 etc) that describe the content of the specific webpage- it makes for good navigation as well
Anchor texts on links to describe what the page you link to is about
Alt attributes on images- make sure your alt text describes what is in your images
Proper inclusion/exclusion in Robots.txt
Make sure you have a sitemap
More best practices for onpage optimisation:
Have powerful call-to-actions in meta descriptions for the specific webpage
Avoid having too many ads above-the-fold as this can lead to penalisation of your site by Google.
Links

Backlinks- Backlinks are one of the most important parameters for search ranking and if you have more number of quality backlinks, search engine considers you as a more trustworthy and reputed site. AHrefs is one of the best backlink checker tools which we at envigo also use. BuzzSumo and Open Site explorer from SEOMOZ are worth trying as well to check the backlink profile of your site.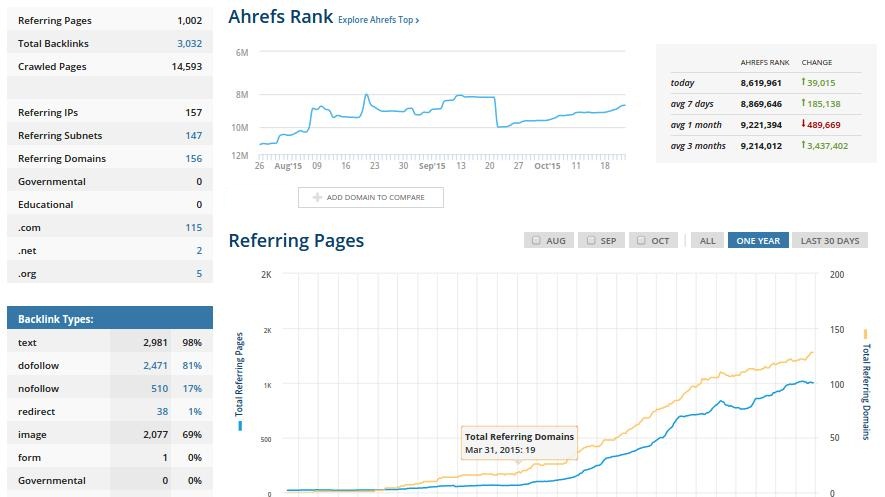 Internal linking/ deep linking- Having proper link structure helps search engine understand your website better and reach all your content. If you have microsites, interlink them. Interlinking is a great way to pass link juice from your blogs to linked pages. Your bounce rate is reduced as you are showing your visitors more content to read and they spend more time on your site!

Content Freshness

The importance of great quality content can never be over-emphasized. Add to it regular content updates and you get the opportunity to achieve higher search rankings based on your content. With the recent updates, the use of links as a differentiating factor, though available, is increasingly out of reach. Content freshness is therefore one of the tools remaining. A blog with frequent, fresh content updates can be one of the best ways to achieve this objective. Also, pay special attention to content freshness of homepage and top product landing pages.
Site Architecture

A proper site architecture helps users and the search engine easily navigate around your site. Try to have your key landing pages close to homepage. And having a flatter site architecture is always recommended.
You can get in touch with us at hi@envigo.co.uk to get a detailed analysis of your site's performance.