Integrating Social Media with SEO
​A recent study measures the extent of positive correlation between social sharing and link building. In a multi-channel, multi-device world, it's imperative for brands to integrate their marketing efforts across digital touchpoints to reach the right audience more frequently. Apart from reinforcing the brand's positioning, digital integration also improves the marketing ROI (your marketing collaterals get more exposure); and, unlike with traditional media, you don't usually have to design from scratch.
Clients Speak
We asked some of our clients about how they thought social media could be used for better organic ranks. Mentioned below are some of the responses we received:
Sharing blog posts through company page gives our content more visibility
Interest based advertising with links to our website improves traffic
Interesting content gets shared more and reaches more people
Positive word of mouth leads to higher credibility which improves ranks in the longer run
These are great answers, however, there's a lot more you can do with your digital marketing efforts to integrate and improve performance across channels. We've segregated activities based on social networks to help you leverage social for SEO and organic traffic.
Google+
Google+ is, by far, the most search friendly social network. You can not only find outreach opportunities, but you can also get in touch with contributors through the network's integrated messaging system.
You can find people from an organisation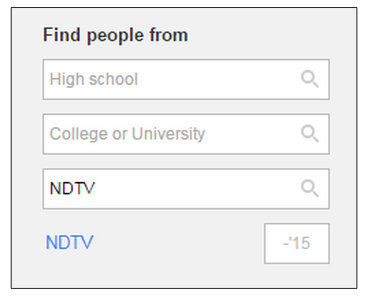 You can build an outreach circle based on success by publication network or by interest.

Once you have a circle, you can share an update to a circle with the option of sending an email to people in that circle.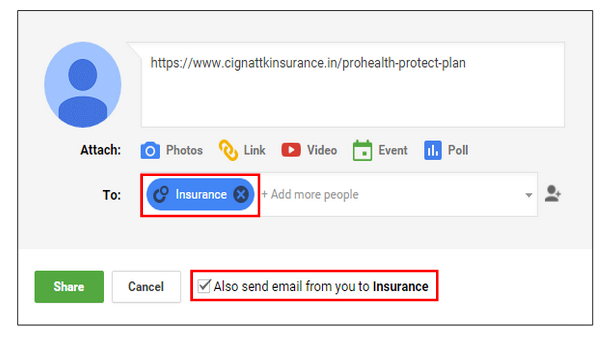 Twitter
At envigo, we use tools such as klear and followerwonk to find SMEs. These tools help you organise influencers by expertise.

There are a lot of other ways by which you can contact and sort your lists. With experience, we've found that there's no defined way to find and sort your influencers. As a hygiene factor, it's always a good idea to keep a check on tweets with mentions of your keywords.
YouTube
Videos are becoming an integral part of digital strategies. With YouTube playing a major role in video marketing, your videos usually end up giving links to YouTube rather than your website. You can use services such as Wistia that allows you to add CTAs in your video as well as link to your website. You can also take the manual approach of checking the backlinks you've received through YouTube and ask the websites to link back to your website.
LinkedIn
Google indexes LinkedIn group discussions in their search results. Therefore, it becomes essential on your part to optimise your LinkedIn page and posts to make them search engine ready. You can take advantage of the description section of your LinkedIn page by writing original content, using your target keywords and phrases throughout. Joining the right LinkedIn groups and posting updates with your target keywords can work wonders for you.

Integrating social with SEO will not only help you break the marketing silos, but will also result in incremental growth in terms of search, traffic and revenue.