Turn your content into a conversion machine
Marketers have understood the power of content to engage prospects and customers. Different forms of content serve different purposes and different audiences and every business should be choosing the right content for their specific business goals. Whether for SEO or brand awareness, the ultimate goal of content creation is to reach out to the target audience and get business. So how do you it? Are there ways to improve your existing content marketing strategy to increase conversions?
Suggested read: 3 insights that will change your content marketing strategy
Identify commercial keywords for your business

In order to succeed with your content marketing effort, it is essential for you to differentiate commercial keywords for your business from informational keywords. Let us assume that your business offers health insurance, use Google Keyword Planner tool to get keyword ideas for your business. I tried generating keyword ideas using the phrase "health insurance". Here's a snippet of the result.

In the screenshot above, you will find 2 highlighted keywords. These are the commercial keywords for your business as people who are searching these queries are actually looking to buy health insurance. Whereas the remaining one is an informational keyword as it will not have a direct impact on the buying decision. Then, take a peek into your Google adwords conversion data. What is the conversion from each such keyword. Your focus should be more on ranking on commercial keywords. Once do that, leads will flock to you.
Create an in-depth informative piece, not a brochure!
If your entire content stream is talking about your product, you will not be able to establish your brand as a thought leader. But if your content is educational, offers valuable insights and solves the problems of your target audience, be ready to generate more leads. In-depth content not only produces quality leads but also comes with huge SEO benefits. According to a study by serpID, in-depth content piece with at least 2000 words ranks higher on search engines.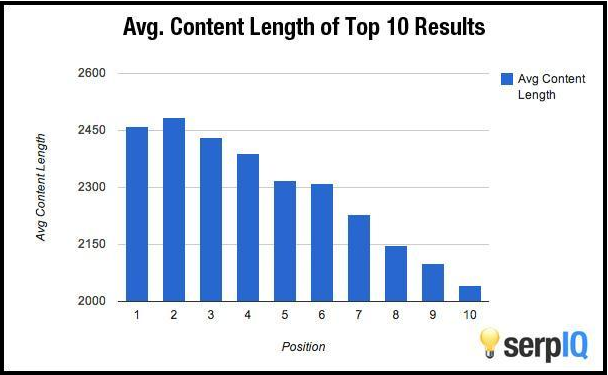 Entice your target audience for more!
Instead of having one generic CTA, create specific lead bait every time you create a new content piece. Incorporating relevant lead baits in your content piece will make your bait even more attractive. It's the fastest way to grow your subscriber list. Since the lead bait is targeted at the people reading your post and it is customised to the post the chances of converting the readers into subscribers are very high.
Hubspot consistently uses this strategy on their blog to build their email list. Below is the snippet of a blog post on Hubspot, titled "8 Dos and Don'ts for Creating Effective Infographics" which offers the readers to download a free guide on "lead generation using infographic" in exchange of their email id. From worksheet to ebook, each type of content you create has a specific job. Experiment with different forms of content, CTAs and learn which resonate with your target audience.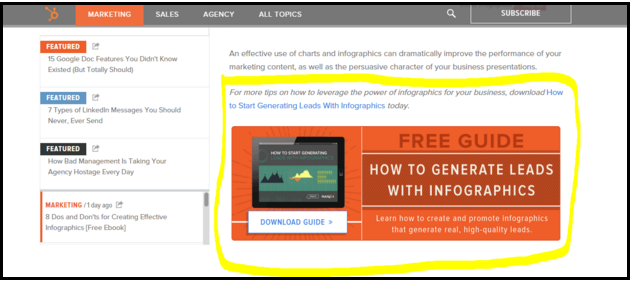 Content is a powerful marketing asset because of the impact it makes on the target audience. When you help someone solve their problems and ask for nothing in return, they think of you as a solution provider and not a business. They will not just develop trust for you but also for your product since you were the one that helped them out when they were look for solutions. And that's a valuable gift.